We provide in-person and remote access to our collections.
In-person access to WCFTR collections is coordinated through the WHS Archives Reading Room and takes place on the fourth floor of the Wisconsin Historical Society building. WCFTR collections can be viewed by anyone working on a specific research project. You do not have to be affiliated with the University of Wisconsin, the Wisconsin Historical Society or another academic institution. However, we cannot accommodate requests for viewing unrelated to research. All onsite access services are provided at no charge.
To schedule a research appointment or learn more about policies, scheduled closures, accessibility, and amenities at the WHS Archives Reading Room click here.
Materials can be requested through the library catalog or by contacting the archivists directly. For further information about accessing WCFTR collections, call 608-264-6466, or email wcftr@commarts.wisc.edu. Information about remote access to materials is available here.
Access to Moving Image Materials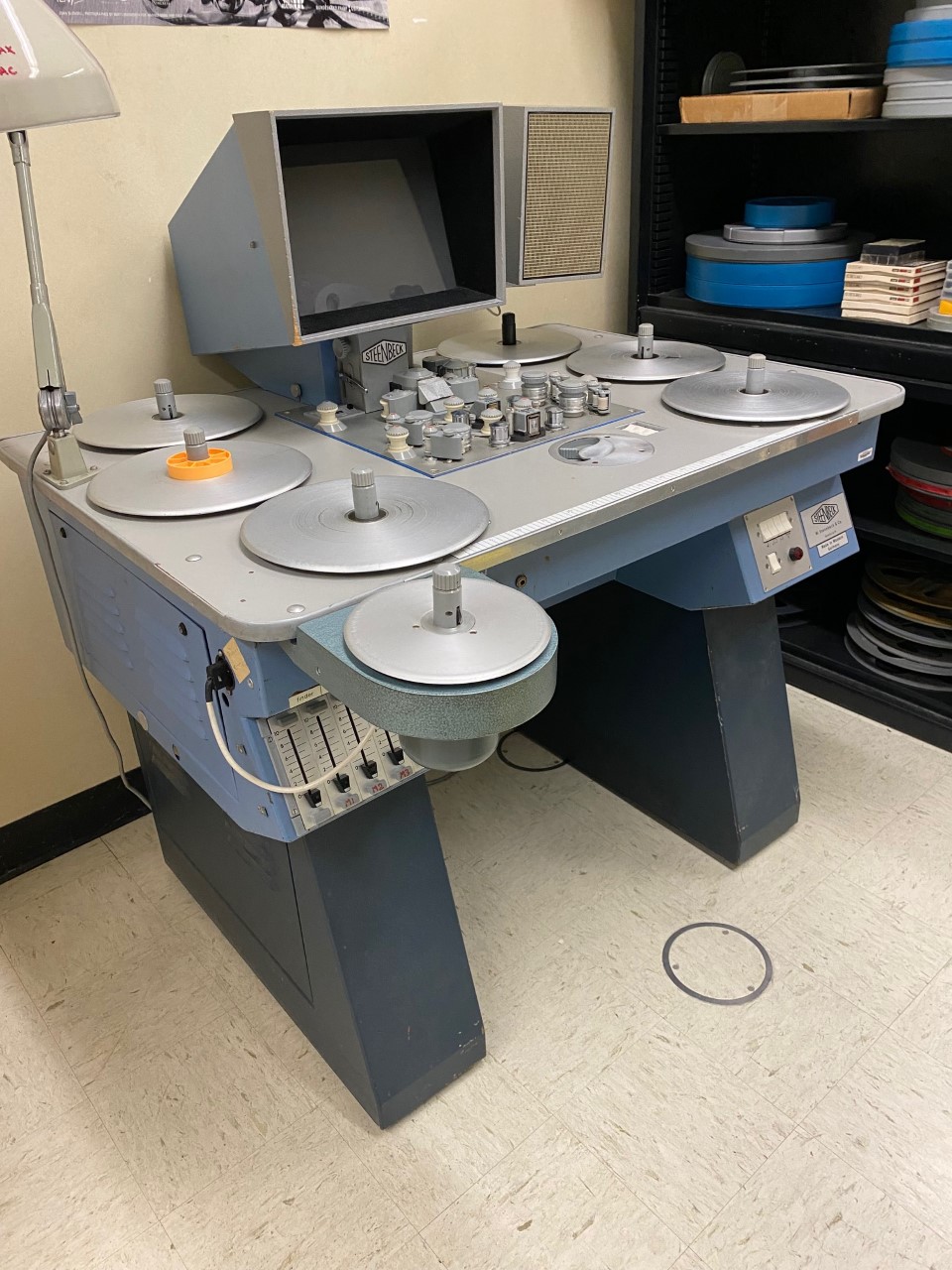 16mm and 35mm film can be viewed on-site using our Steenbeck flatbed viewing machines. We will digitize videotapes in advance of viewing appointments. 
Requests to view moving image materials and appointments for use of the viewing room must be made at least two weeks in advance. All AV materials must be retrieved from off-site storage and checked for condition issues. For this reason it is advised to submit all research requests well in advance of any proposed visit. Some items listed in the catalog may not be available due to condition and/or format.
All films and videos should be reserved by call number. The call number for each title is noted in the call number field of the catalog entry.
With the exception of certain films which may be shown to classes on the UW-Madison campus and print loans to qualified venues, films do not circulate. For information about print loans click here.
Access to Manuscript Collections and Still Photographs
No advanced notice is required to access manuscript and photograph collections at the WCFTR. Materials are paged from the stacks daily, though certain collections are stored off-site and require advanced notice for access. While not required, patrons are encouraged to call or write in advance to confirm that the materials they wish to study will be available for their visit.
When you find collections related to your subject of interest, note the catalog information such as format, call number, and shelf locations of the collection/s. This information will help us to provide you with information about and access to the collections.
Access to Audio Collections
Audio from WCFTR collections is available for onsite listening only – copies are not made for any use, including personal reference, unless permission from the donor or estate has been given.
Because of the variety and fragile nature of audio formats, access copies are made for researchers to listen to. If an access copy does not already exist, one will need to be made before a researcher can listen to the content. This process usually takes 1-2 weeks but, depending on the amount requested, the existing orders and staff availability, it may take longer. Researchers are strongly advised to contact WCFTR staff ahead of time to ensure access copies will be able to be made before their visit.
Reference Assistance
The Center can provide research assistance to researchers unable to visit the Archive in Madison for a fee of $25.00 per hour. There is no charge for individuals researching WCFTR films, photographs, or manuscripts at the Wisconsin Historical Society.
For reference assistance you may:
Visit the WCFTR

Send a reference request via email to wcftr@commarts.wisc.edu

Contact the Center by calling us at 608-264-6466
Please note: The WCFTR can only provide limited research service and we reserve the right to turn down research requests on a case-by-case basis.