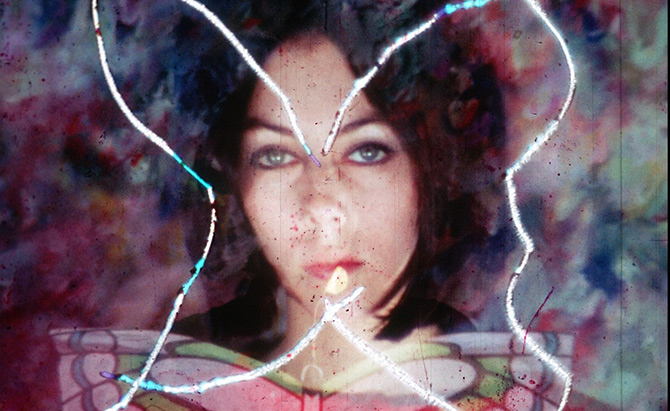 The Wisconsin Center for Film and Theater Research (WCFTR) is pleased to announce it has received a grant from the National Film Preservation Foundation (NFPF) to have two short films by Shirley Clarke preserved. The NFPF Avant-Garde Masters grant will be used to preserve Butterfly (1967) and 24 Frames per Second (1977). http://www.filmpreservation.org/about/pr-2014-10-14
Butterfly is a short film (4 minutes 20 seconds) Shirley made with her daughter Wendy for an anti-Vietnam War protest event held in New York City in 1967; it is one of the last films she made before she began working with video in 1968. We believe the film may have been screened as part of the Week of the Angry Arts Against the War in Vietnam which Shirley helped organize at the NYU Loeb Student Center; Wendy remembers it being screened at the Elgin Theatre sometime in 1967 so it was shown once for sure—possibly twice but not more than that—it is a film that is virtually unknown and is not included on any filmography for Shirley. The theme of the movie was that war kills and threatens to wipe out families, creativity, and life. In the film, Shirley and Wendy are seen separately and together with Shirley holding and rocking Wendy; their images often overlap. Wendy drew, scratched and hand-painted butterflies and used Clorox directly on the film to create a cascade of colors. The soundtrack is comprised of the alternating sounds of a baby crying, machine gun fire, and Brahm's Lullaby sung by Shirley's niece Liza Lorwin.
24 Frames per Second (3 minutes 50 seconds) was created for the series "The Poetic Eye: 1929 to 1977" which was curated by Bill Moritz at the Los Angeles County Museum of Art (LACMA) in 1977. The film was the first film Shirley had made in ten years, her twenty-fourth film overall and she dedicated it to her good friend Fereydoon Hoveyda. She considered it one of her "gift" films—films she made for special friends on special occasions—and was the first "gift" film she made sure she had a print of herself; the film was a gift to both Bill Moritz and Ron Haver. This short film is comprised of twenty-four different Persian miniatures from the LACMA collection set to Middle Eastern music. In a note to Hoveyda, Shirley said to "enjoy the beauty of the image—the rhyming of the music—the result a gay and giddy song." The film is a blur of colorful Persian images matched to equally lively music that breeze past the viewer only occasionally pausing on one of the images to give the viewer a chance to catch their breath.
The WCFTR is once again working with Colorlab, a full-service motion picture film laboratory in Maryland, to have the preservation work done. We look forward to being able to share these films with a wider audience in the future at screenings in Madison, at other archives, and at screening venues around the world.
Mary Huelsbeck
Assistant Director