The Communication Arts Department hosted director and screenwriter David Koepp in early March to introduce three screenings at the UW Cinematheque and to meet with faculty and students from the department. A native of nearby Pewaukee, Wisconsin, Koepp started his career with an independent film, APARTMENT ZERO, before his first big writing assignment, JURASSIC PARK. In addition he wrote DEATH BECOMES HER, THE PAPER, MISSION: IMPOSSIBLE, and wrote and directed STIR OF ECHOES, GHOST TOWN, and a WCFTR-staff favorite, PREMIUM RUSH. Currently he's working on the screenplay for Ron Howard's latest project and has finished the screenplay for BRILLIANCE, now shooting.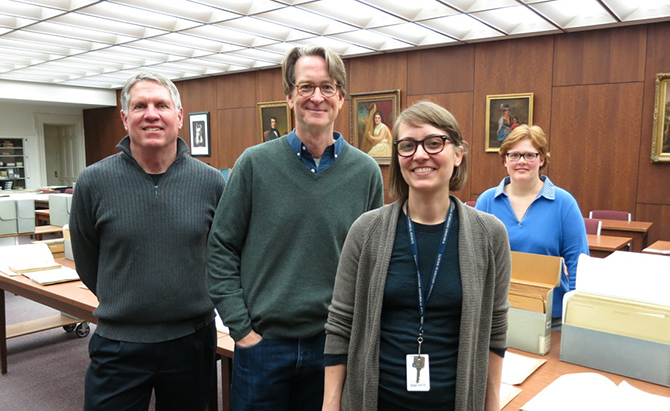 Before becoming a successful screenwriter and director, Koepp spent time as an undergraduate in the Communication Arts Department here at UW-Madison. He transferred and received his degree from UCLA, though he cites that "Madison was really where I shifted my emphasis from acting in theater to writing – at first playwriting and then specifically movie writing."

We were thrilled that David was able to make a quick stop for a tour of the WCFTR facilities and collections during his visit to Madison. Our collections are often consulted by screenwriters doing historical research, as was recently the case for the upcoming feature film TRUMBO, starring Bryan Cranston as the blacklisted Hollywood screenwriter Dalton Trumbo. Koepp had time to look through the papers of Rod Serling and listen to a few of his digitized dictabelt recordings, as well as view a scene from our rare print of King Hu's 1967 masterpiece DRAGON INN.

It was a pleasure for WCFTR staff members to welcome David Koepp back to Madison, the city that played an important role in shaping his career.