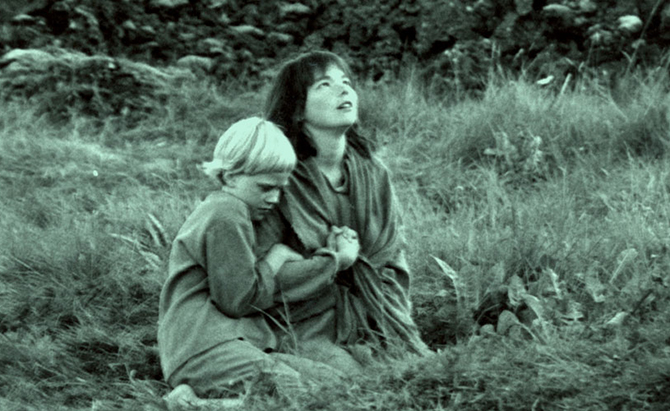 The WCFTR has received a grant of over $94,000 in support of the restoration of THE JUNIPER TREE (1990), an ethereal and visionary psychological horror film adapted from the Grimm Brothers fairy tale by American director and former UW-Madison Communication Arts Professor Nietzchka Keene. This grant project is supported by funding from the George Lucas Family Foundation and The Film Foundation, an organization created in 1990 by Martin Scorsese, along with Woody Allen, Robert Altman, Francis Ford Coppola, Clint Eastwood, Stanley Kubrick, George Lucas, Sydney Pollack, Robert Redford, and Steven Spielberg to address the urgent need for film preservation.
Shot in Iceland's stunning volcanicash landscape in 1986, THE JUNIPER TREE is the first film of legendary singer Björk, who was only 20 at the time of the film's production. Beset by financial woes, The Juniper Tree was not released until 1990, when it premiered at the Sundance Film Festival, by which time Björk had become renowned as the lead singer of the Sugarcubes. The film's quietly meditative and mystical quality was out of keeping with the mainstream industry's expectations, and it was soon forgotten, while its artistic accomplishments have become only more apparent with the passage of time. THE JUNIPER TREE stands today as a forgotten masterpiece, made all the more significant for its powerful evocation of the cultural isolation of visionary women in the middle ages; still resonant today in the omission of Nietzchka Keene from most major film histories; an error we hope to rectify with the present restoration.
Director Nietzchka Keene was born and raised near Boston, Massachusetts, and received her BA degree in 1975 in Germanic linguistics at Amherst, before going on to complete her Masters of Fine Arts in film production at UCLA in 1989. While at UCLA, she served as a research assistant in Old Icelandic language and linguistics under Dr. Jesse Byock, and in 1985 she was awarded a Fulbright Fellowship to Iceland where she researched and prepared for production of her award-winning feature film, THE JUNIPER TREE. In 1995, Keene began her tenure as a professor at the University of Wisconsin-Madison teaching filmmaking, where she remained until her death at the age of 52 due to cancer. Keene left behind one unfinished project, Barefoot in Jerusalem, which was shot in Madison, WI and the Upper Peninsula of Michigan. Her films and papers have been donated to the collection of the Wisconsin Center for Film and Theater Research, and you can read more about her collection here.
Currently THE JUNIPER TREE is available for distribution in only a single 35mm film print and a number of poor video and digital copies. The restoration project will be managed by the WCFTR's film archivist Amy Sloper and Ross Lipman of Illuminate Labs in Los Angeles, and audio work will be done by Audio Mechanics in Los Angeles. The original 35mm b/w picture negative will be used as the source for a 35mm preservation fine grain master positive, and as the source for a 4K digital scan. The 4K files will be digitally restored and used to produce a DCP, and output to LTO for digital preservation. The original 35mm mag track and original 35mm track negative will be used as the source for audio restoration. Restored files will be used for the DCP, and then output to digital file, a 35mm preservation mag track, and a 35mm track negative. The restored audio and original picture negative will be used to strike pristine projection prints for The Film Foundation Collection and the WCFTR.