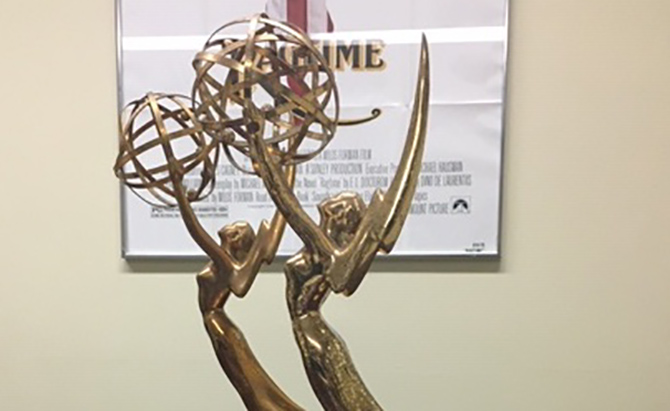 And the Emmy goes to….
The television collections at the WCFTR span from the 1940s to the late 1990s. The Center has a number of significant collections documenting the first "golden age" of television – particularly the live anthology drama series of the 1950s and early 1960s including Producer's Showcase, Playhouse '90, Philco Television Playhouse, Goodyear Television Playhouse, and Armstrong Circle Theatre to name a few. Writers like Paddy Chayefsky, Rod Serling, Reginald Rose and N. Richard Nash helped demonstrate that television could present complicated and emotional stories on the small screen. One of the champions of early television writers and directors was Fred Coe. As producer of first the Philco Television Playhouse and then Playwrights '56 and Producer's Showcase, Coe mentored people like Chayefsky, Arthur Penn and Delbert Mann who took what they learned in television to Hollywood and had successful film careers. Besides television, Coe also found success as a producer on Broadway (The Trip to Bountiful, Two for the Seesaw, The Miracle Worker, A Thousand Clowns, and in film (The Miracle Worker, A Thousand Clowns).
The WCFTR has two of Fred Coe's Emmy Awards: 1955 Best Producer – Live Series Producer's Showcase and 1959-1960 Outstanding Program Achievement in the Field of Drama Playhouse '90.
If you'd like to learn more about Fred Coe and the live drama series of the 1950s and early 1960s, please visit the WCFTR website and see the exhibit done by Jonah Horwitz: https://wcftr.commarts.wisc.edu/exhibits/golden-age-television/fred-coe-producer-extraordinaire.