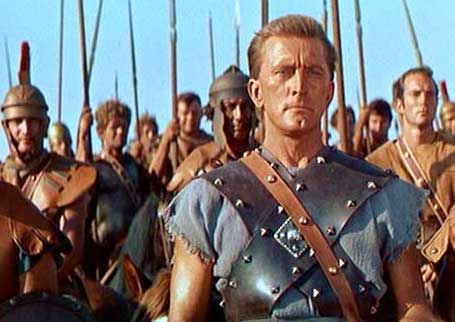 The Kirk Douglas Collection contains the papers of a highly successful actor-producer who has worked in motion pictures, television, theater, and radio. While the collection illustrates some aspects of Douglas's personal life, the primary emphasis is on his career as an actor, and as a producer and founder of Bryna Productions and other production companies. 
The papers document the collaborative effort of filmmaking: the work of writers, directors, producers, and actors, and the details of technical production, financing, promotion, and distribution of films. Included are correspondence, financial records, technical production files, promotion and publicity files, distribution planning papers and records of gross receipts, scripts and screenplays, and news clippings. Documentation is most extensive for those motion pictures produced by Bryna Productions in which Douglas starred: Indian Fighter (1955), Spring Reunion (1957), The Vikings (1958), Spartacus (1960), Lonely Are the Brave (1962), Scalawag (1973), and Posse (1975). Files concerning unproduced motion pictures contain mainly scripts, in some cases with little additional information. There is also a series concerning television appearances by Kirk Douglas and three television specials or series produced or planned by Bryna Productions: Tales of the Vikings (1959), Indian Fighter, and Spartacus. For the latter three items there are correspondence, financial records, production and promotional files, and scripts for specific episodes. Regarding Douglas's personal appearances there generally is correspondence and a script.
Among the later productions represented is The Moneychangers, a television movie. Other files in the collection contain scripts and correspondence regarding plays and radio broadcasts by Kirk Douglas. There are scripts of radio adaptations of two of Douglas's films, The Strange Love of Martha Ivers and The Champion, as well as scripts of plays perhaps considered by Douglas for production. Of interest in the theater files are the records of One Flew Over the Cuckoo's Nest, produced as a Broadway play starring Kirk Douglas in 1963-1964, and later produced as a motion picture by his son, Michael Douglas.