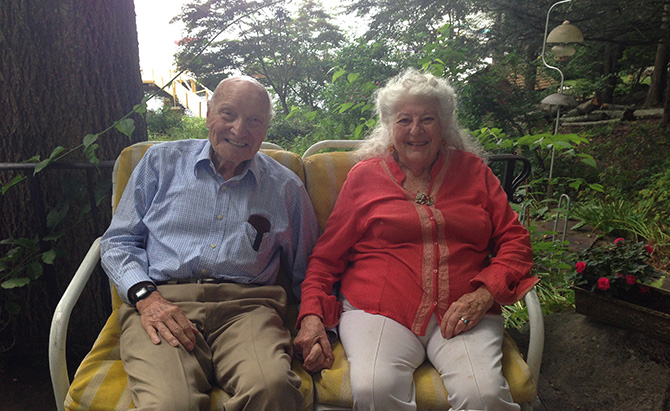 The WCFTR is pleased to announce that Harold Mayer and Lynne Rhodes Mayer (UW –Madison BA '47) have donated their collection of film and professional papers to the archive. The material consists of over 200 film, video, and audio items, including prints, access copies, and pre-print materials, as well as a concise manuscript collection supporting their work. Processing of the material for archival access began in late 2014 and we expect the collection to be ready for research use in mid-2015, at which time we will post a finding aid and a follow-up announcement.
Harold Mayer and Lynne Rhodes Mayer have been friends of the UW's Communication Arts department for many years, through their financial support for student filmmakers as well as non-resident undergraduates. The pair met in Columbus, Mississippi while she was on a writing assignment and he on a directing job for CBS, and have spent much of their professional lives working together—she as writer/producer, he as producer/director. One of their most lauded films, The Inheritance, which traces the roots of the organized labor movement in the United States, bringing the issues of labor unions and immigration from the past to their impact on us today, won best of festival awards in Europe, Australia and the United States upon its release in 1964. This film, along with the output of Harold Mayer Productions, the company formed by Harold in 1961 for which the couple wrote, produced, and directed many documentaries ranging from the very first TV film on family therapy (Trouble in the Family, 1967), the unspoken scandal of inner-city education (The Way It Is, 1967), to many innovative science films and historical documentaries, makes up much of the material in the donated collection. The running threads through the work are issues of social justice and social responsibility, ideals to which Harold and Lynne are still deeply committed.
The WCFTR is excited to include the Harold & Lynne Rhodes Mayer Collection amongst our holdings, both to support the work of an alumna and also to complement our collection's already strong holdings in social activism and political filmmaking.