Communication Arts student Meredith Smith has received a Trewartha Undergraduate Honors Research Grant. After the application process, the grant was awarded to Smith for her excellent senior thesis, which explores Hollywood costume designer Dorothy Jeakins' career in the 1960s. While her thesis is still in progress, the grant will provide Smith with $1,500 to cover the expendable supplies, travel expenses, and related costs needed to complete her research.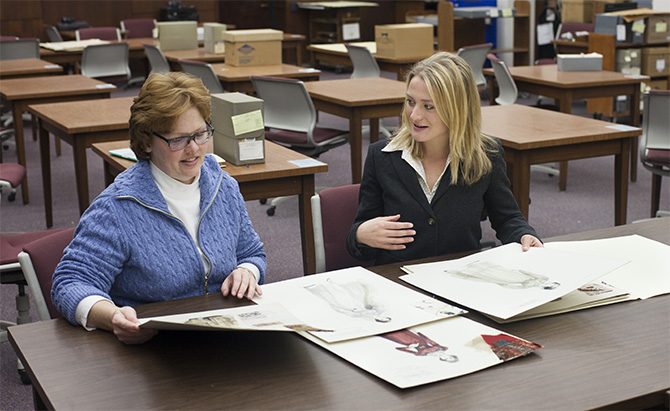 Smith has already been hard at work researching Dorothy Jeakins in the Wisconsin Center for Film and Theater Research (WCFTR) archive here on campus. Assisted by Assistant Director Mary Huelsbeck and Head Film Archivist Amy Sloper at the WCFTR, Smith has been able to delve into Jeakins' papers, costume sketches, workbooks, wardrobe notes, audio interviews, and more. Smith will use the grant funds to travel to LA for a week in January to do additional research. There she will visit the Margaret Herrick Library and UCLA Film & Television Archive which both have collections on Dorothy Jeakins.
Dorothy Jeakins once worked with famous costume designer Edith Head, but later became an independent freelance costume designer, not tied to a studio as Head was. Jeakins is best known for her work on The Night of the Iguana (1964), for which she won an Oscar, The Sound of Music (1965), and Hawai' (1966), which won Best Picture. Smith's honors advisor, Professor Kelley Conway, explained that studying Jeakins "will allow Meredith to gain insight into the constraints and opportunities that were available to independent costume designers working in the industry."
Professor Conway could not praise Smith enough, stating "[she] is an unusually ambitious and intellectually curious person who's learning how to do archival research." Professor Conway added that it is a privilege to be her advisor.
Meredith Smith's research trip is funded by the University of Wisconsin-Madison L&S Honors Program through a Trewartha Senior Thesis Research Grant awarded by the L&S Honors Program.