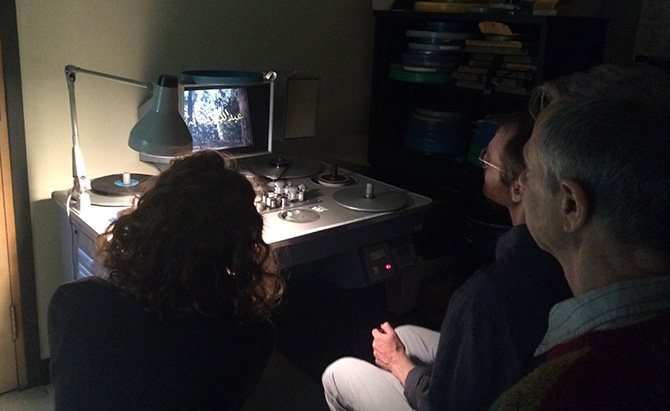 The WCFTR is partnering with faculty and students from the UW-Madison's Department of African Languages and Literature to assist with the translation and cataloging of several Arabic films from the Madison Public Library collection. During processing, fourteen films were found with labels or handwritten titles in Arabic script, prompting the WCFTR to reach out to members of the UW-Madison community for translation assistance.
Professor Samuel England and two students from his Advanced Arabic course visited the WCFTR to view the films and take notes on the content. In addition to being great language practice for the students, they were able to offer deeper insight as to why the Madison Public Library may have owned the films in the first place. Several of the films are Libyan government films, which may have been brought to Wisconsin by a Ph.D. student in the Communication Arts.
With help from Professor England's Advanced Arabic students, the rest of the Arabic films will be translated and described. These descriptions will help other interested researchers find and access the collection, which may be very unique (and is certainly unique to Madison, Wisconsin).
Plans are being made to digitize the materials for future use by the Department of African Languages and Literature to assist in language study.