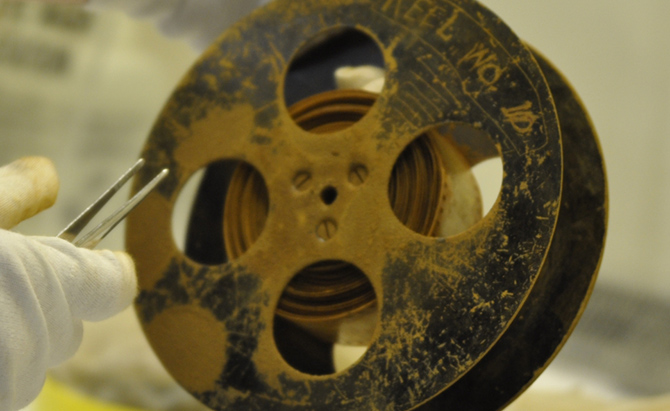 As the current director of the WCFTR, I am pleased to announce the debut of the Wisconsin Nitrate Film Project. The project represents the culmination of a multi-year, interdisciplinary study of the factors that contribute to the decomposition and combustibility of nitrate film stock. The findings presented on the website are organized around the different research questions encompassed by the study. They include:
The results of physical and chemical tests performed on 35mm reels of nitrate stock that had been deaccessioned from the WCFTR and the Wisconsin Historical Society
A survey of archivists from the Association of Moving Image Archivists and the Council of State Archivists regarding current preservation standards and practices
An oral history comprised of interviews conducted with archivists, conservators, laboratory personnel, and projectionists, all of whom describe their experiences working with nitrate film
An online annotated bibliography of the extant research on cellulose nitrate
I wish to express my gratitude to all of the faculty, students, staff, and archival professionals who contributed their time and expertise to the project. Two individuals, though, merit special mention for their work on the website. Amanda McQueen was not only the primary research assistant on the Wisconsin Nitrate Film Project, but also the main designer and builder of the webpages. Special thanks to Amanda for all of her tireless work, both on the website and for all of her contributions to the project as a whole. Thanks also to Michael Trevis for his advice and assistance on several technical issues related to the building of the webpages.
Primary funding for the Wisconsin Nitrate Film Project was provided by the National Endowment for the Humanities. The Project received additional financial assistance from The Graduate School of UW-Madison. The WCFTR thanks them both for their generous support.
Lastly, the WCFTR also expresses our appreciation to the Project's co-sponsors and partners: The Mahanthappa Research Group and the Wisconsin Historical Society.
View the Wisconsin Nitrate Film Project here: http://wcftr.commarts.wisc.edu/projects/wisconsin-nitrate-film-project.