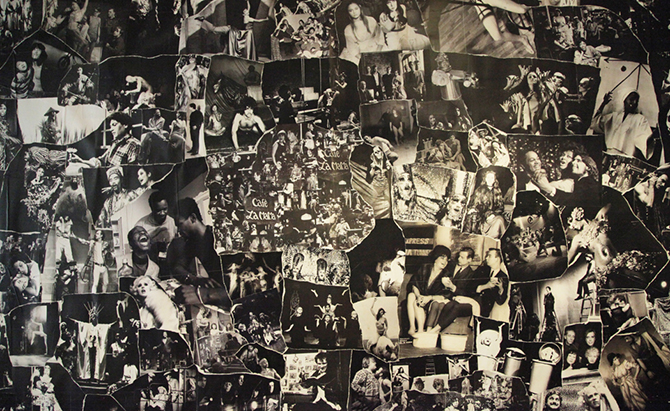 WCFTR partners with La MaMa and Bay Area Video Coalition on NHPRC grant funded project "Expanding Access to the Videotaped Record of 1970s-Era Experimental Theatre."
The Archives of La MaMa Experimental Theatre Club, the world renowned cultural institution known for presenting cross-disciplinary work in theatre, dance, performance art, and music in the Lower East Side since 1961, has received $100,000 from the National Historical Publications and Records Commission to support a collaborative project that will result in expanded access to a rare collection of videos that document theatrical work performed on La MaMa's stages in the 1970s. La MaMa will work with Bay Area Video Coalition (BAVC) to digitize the collection of half-inch open reel videos, and will partner with the Wisconsin Center for Film and Theater Research (WCFTR) to store and digitally preserve these files in perpetuity. Newly created digital video materials will subsequently be made freely available to researchers, students, artists, and the interested public. Digital access copies of these newly available videos will be viewable by researchers on-site at the WCFTR starting in late 2018.
As a whole, the collection offers a glimpse into the kinds of conversations that La MaMa has nurtured since its founding in 1961 – and a window onto the diversity of artists' responses to pressing social issues of the 1970s. These collections both enhance and complement the WCFTR's existing holdings in American theater, which include collections of actors such as Alfred Lunt and Lynn Fontanne, Melvyn Douglas, Kitty Carlisle, and the Actors Studio, playwrights including S.N. Behrman, Moss Hart, Langston Hughes, George S. Kaufman, Walter and Jean Kerr, and Dale Wasserman, as well as the work of composers and lyricists Marc Blitzstein, Sheldon Harnick, Stephen Sondheim, of theatrical director Alan Schneider, and of costume, set and lighting designers Dorothy Jeakins, Gilbert Hemsley, and Jean Rosenthal. Productions documented in the La MaMa collection include:
A 1972 production of "Body Indian" – one of several plays written by Hanay Geigogamah (a member of the Kiowah-Delaware nation of Oklahoma) and performed at La MaMa by the Native American Theatre Ensemble in the aftermath of confrontations between the American Indian Movement and the US government.
A 1976 production of "Godsong"– a gospel-rock song and dance revival of James Weldon Johnson's Harlem Renaissance-era masterpiece "God's Trombones."
A 1974 production of "Ghosts and Goddesses" – a Chinese-American reworking of folktales written by Tisa Chang and performed by the pioneering ensemble that later evolved into the Pan Asian Repertory Theatre company.
A 1974 production of "Standard Safety"– a satire written and directed by the inimitable Julie Bovasso, about office work, bureaucracy, gender relations, and corporate culture in 1970s America.
A 1976 performance by Ekathrina Sobechanskaya and the original Trockadero Gloxinia Ballet Company – an all-male troupe, costumed as prima ballerinas, performing a high camp savage satire of classical Russian ballet.
A 1976 performance of "Who Chooses the Choices We Choose" – a play that was originally developed as part of a drama workshop by prisoners of the Taconic State Prison in upstate New York.
A landmark 1976 production of Fernando Arrabal's "The Architect and Emperor of Assyria," directed by Tom O'Horgan (director of HAIR on Broadway) and performed by Ron Perlman and Lazaro Perez.
As part of the grant project, staff at La MaMa and the WCFTR will enhance the public's ability to discover these rare materials by linking collection and item descriptions from La MaMa's digital collections website and the UW library catalog to Wikipedia, the Digital Public Library of America, and WorldCat. In addition, over the course of the project La MaMa will host three public screenings featuring highlights from the collection, one in New York, one in San Francisco, and one here in Madison.