Wisconsin Nitrate Film Project
Project Overview
Origins of the Wisconsin Nitrate Film Project
The Wisconsin Nitrate Film Project emerged out of a discussion at a meeting of the Nitrate Committee at the annual conference for the Association of Moving Image Archivists (AMIA) in 2008.
Heather Heckman, then a Ph.D. student in the Communication Arts Department at UW-Madison and an Archives Assistant at the Wisconsin Center for Film and Theater Research (WCFTR) and the Wisconsin Historical Society (WHS), agreed to research the claims about nitrate's combustibility and decomposition that have informed archival practice and safety standards.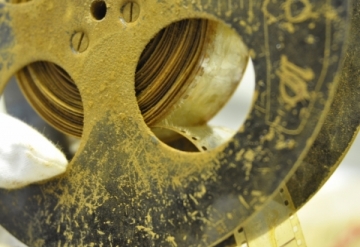 In her article "Burn After Viewing, or, Fire in the Vaults: Nitrate Decomposition and Combustibility" (The American Archivist, Fall/Winter 2010), Dr. Heckman, now the Director of Moving Image Research Collections at the University of South Carolina, reported that the safety regulations governing nitrate storage, shipping, and handling, as well as the best practices employed by archivists, are based on research that is sometimes contradictory or inconclusive.
Dr. Heckman devised the Wisconsin Nitrate Film Project to help address these inconsistencies, and she submitted a proposal for a Preservation and Access Research and Development Grant to the National Endowment for the Humanities in 2011.
Dr. Heckman's original grant proposal can be read here.
To assist in the project, WCFTR and WHS agreed to donate several deaccessioned reels of 35mm nitrate film, all manufactured by Eastman Kodak before 1951. This provided us with heritage nitrate film samples that could be subjected to a variety of physiochemical tests, all of which would require destroying the film.
Bringing together the archival and scientific communities, the project was designed to further our understanding of the fire risk posed by heritage nitrate films and of the chemistry that underlies cellulose nitrate decomposition. In addition to generating practice-centered results that could be disseminated to and understood by non-technical audiences, the project further aimed to serve as a model for continuing collaboration between archivists, conservators, and chemists.
The Wisconsin Nitrate Film Project got underway in January 2012.
Primary Objectives & Tasks
Three primary questions guided our project:
Is there a correlation between the chemical behavior of nitrate film and what we can see and measure using the naked eye and simple tools available to those who routinely handle nitrate film?
Does the combustibility of nitrate film increase in later stages of decomposition?
Is the brown powder generated in the last stages of nitrate film decay is shock- or friction-sensitive?
Work was divided between two groups:
The Chemistry Group focused on the physicochemical processes underlying the degradation and flammability of cellulose nitrate film.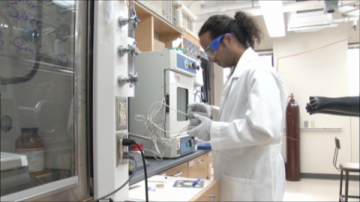 Led by Professor Mahesh Mahanthappa, then a faculty member in the Department of Chemistry at UW–Madison (Professor Mahanthappa has since moved to the University of Minnesota–Twin Cities Department of Chemical Engineering and Materials Science), this group conducted quantitative physiochemical analysis on samples of deaccessioned heritage nitrate film in various stages of decay and executed a year-long accelerated aging trial to study the long-term effects of elevated temperatures and relative humidity on nitrate's chemical characteristics. Dr. Mahanthappa carried out these activities in conjunction with three graduate student research assistants in Materials Chemistry: Glen B. Thomas, Milton H. Repollet–Pedrosa, and Allen Wang.
The History and Conservation Group studied current and historical practices for the archival storage and handling of nitrate films and the discourse surrounding these practices.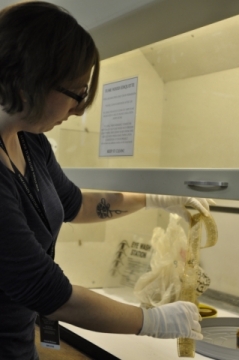 This group was headed by Dr. Vance Kepley, then Professor of Communication Arts at UW–Madison and Director of the WCFTR, and was further comprised of Katie Mullen, Preservation Coordinator at WHS; Mary Huelsbeck, WCFTR Assistant Director; Maxine Ducey, WCFTR Film Archivist (for earlier stages); and Amy Sloper, WCFTR Film Archivist (for later stages). The primary research assistant for this group was Amanda McQueen, then a Film Studies Ph.D. candidate in the Department of Communication Arts. Her duties were at one point assumed by fellow Film Studies graduate student F. Booth Wilson.
The activities of this group included:
formulating and testing a visual inspection process for nitrate film samples
compiling an extensive annotated bibliography on nitrate film encompassing popular, scientific, conservation, safety, and historical literature
developing and executing a survey of members of the archival community
organizing a series of oral histories with veteran professionals who have worked extensively with nitrate film
The history and conservation group, with the participation of the chemistry group, also produced the short explanatory videos on this website. Booth Wilson directed, shot, and edited the videos, under Amanda McQueen's supervision. Many of our photographs were taken by Jenny Oyallon-Koloski, also a former Film Studies graduate student at UW-Madison.
Our experimental progress was reviewed throughout by an advisory board comprised of three archival professionals: Douglas Nishimura, Research Scientist at the Image Permanence Institute; Mike Pogorzelski, Director of the Academy Film Archive; and Ed Stratmann, Associate Curator at George Eastman House. Heather Heckman, Director of Moving Image Research Collections at the University of South Carolina and the creator of the grant project, also served in an advisory capacity.