In 2005, a collection of manuscripts, film, videorecordings, photographs, and tape recordings arrived at the WCFTR documenting the filmmaking career of Nietzchka Keene. Keene, an independent filmmaker born in Boston and trained at UMass-Amherst and UCLA, taught filmmaking and editing to numerous students in the Communication Arts Department at UW-Madison until her untimely death in 2004 from pancreatic cancer.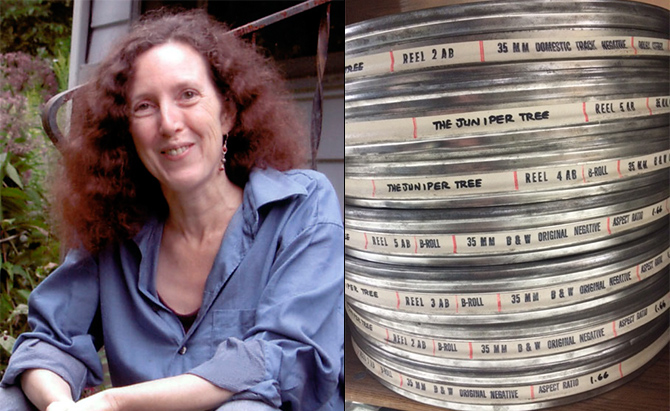 We are very pleased to announce that in late June 2015, an addition to Nietzchka Keene's collection arrived from a storage facility in Los Angeles where her friend and former producer had been holding on to it for safe keeping. The additions include picture negatives, soundtrack masters, and select outtakes from The Juniper Tree (1989), Keene's feature film shot in Iceland, and starring the Icelandic singer Bjork in her first film role, Heroine of Hell (1996), her second feature which combined medieval iconography with a present-day storyline and starred Catherine Keener and Dermot Mulroney, and her short film Aves (1994), which used innovative animation techniques to illuminate the spiritual state of a cloistered nun. This additional pre-print material will allow us to create new prints and elements for her films if and when it becomes necessary, and ensures the preservation of her work for years to come.
These materials are currently being inventoried, rehoused, and placed in our climate-controlled film vaults. A complete finding aid for the collection, including all manuscript and moving image items, will be posted and announced here when the materials are available for research use.