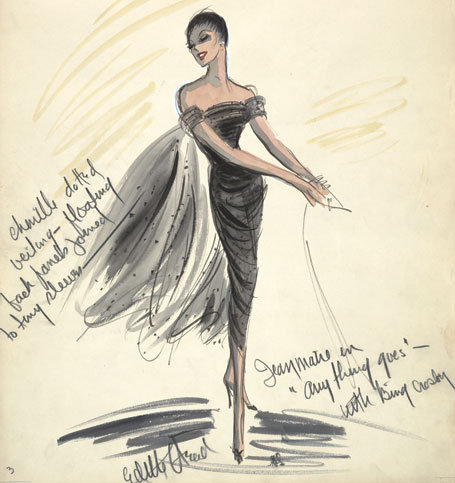 The Edith Head Collection contains the papers of one of Hollywood's leading costume designers. The collection features some of her personal papers, but is largely comprised of costume sketches completed by Head and her teams of designers. Watercolor, pen and ink, and pencil sketches, many bearing notes on fabric and costs, comprise the majority of the collection.
In addition to designs for All About Eve (20th Century-Fox, 1950), The Five Pennies (Para., 1959), Love With a Proper Stranger (Para., 1963), Pepe (Col., 1960), Sabrina (Para., 1954), and To Catch a Thief (Para., 1955), all of which received Academy awards or nominations for costuming, there are examples of her work for Artists and Models (Para., 1955), Breakfast at Tiffany's (Para., 1961), Come Blow Your Horn (Para., 1963), The Pleasure of His Company (Para., 1956), and Wives and Lovers (Para., 1963). Over fifty films are represented in the sketch collection, along with some theater and television designs, and miscellaneous special designs for actresses such as Joan Crawford and Lucille Ball.
During her 44 years as head designer at Paramount, and a subsequent fourteen years at Universal, Head worked on over a thousand films for that and other studios. Simultaneously, she became known as a fashion authority in the United States. Thus, the collection includes portions of her book The Dress Doctor (1959) along with related publicity materials and correspondence. Awards, magazine features, newspaper clippings, and two scrapbooks trace Head's career in and out of Hollywood. The collection includes many of her own magazine articles, as well as photographs, letters, and other materials documenting her many public appearances at costume shows and on radio and television programs.
This featured collection was prepared by Liz Ellcessor, 2008 Jarchow Fellow, from WCFTR materials and additional research. Thanks to Maxine Ducey, Dorinda Hartmann, Andy Kraushaar, and Michele Hilmes.