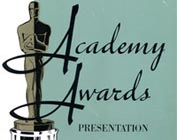 In addition to her Oscar nominations and wins, Head designed gowns for actresses to wear, and became involved with the production of the ceremonies, particularly once they were televised.
Head occasionally consulted with actresses such as Eva Marie Saint and Zsa Zsa Gabor beforehand, to ensure their appearance at the ceremony would live up to expectations. Head recalled the extra work, writing that "One of my extracurricular duties is as a consultant to the Academy, and during the month of March the number of problems and diagnoses are of epidemic proportions" (Dress Doctor 114). These extracurricular designs could also enhance her career, of course. She believed that "the Awards are important because they are viewed by such a large audience. For a designer, a large audience is important" (Dress Doctor, 115).
As time went on, and the Oscar ceremonies were televised, Head became involved behind the scenes as well. Her involvement with the 32nd Academy Award ceremony, in 1960, is perhaps particularly notable.
In addition to her own nominations, Head was an official consultant for the televised award ceremony. She participated in the pre-Award telecast, "Oscar Night in Hollywood," bringing "descriptions of the clothes and coifs of Hollywood royalty" to the home audience (Bazelon). Head also did a slew of publicity interviews, organized by Cecile Gray Bazelon, publicizing the ceremony and its telecast. In a letter to Eleanor Klein of the New York Herald Tribune, Bazelon suggests the following:
I think you might find of specific interest Miss Head's grab-bag of memories regarding former Oscar telecasts. During the eight years that the Academy Awards show has been televised, she has served as the Academy's official consultant. Her original capacity was that of censor to see that excess cleavage would not cause the home screens to darken.
The Academy Awards are presented in the spring following the year in which honored films were released.  Thus, the awards for 1959 were presented in early 1960.  Head herself fielded dual nominations for costume design in this year.  Five Pennies was nominated in the color category, and Career was nominated for the black and white. Her nominations can be seen in the official ceremony program. Neither film was a win for Head.
Digital Documents
Memo from Bazelon to Eleanor Klein, regarding Head's publicity schedule (1960)
32nd Academy Awards Program (1960)
Letter from Academy President B.B. Kahane (1960)
Related Links
Academy Awards database, searchable by category