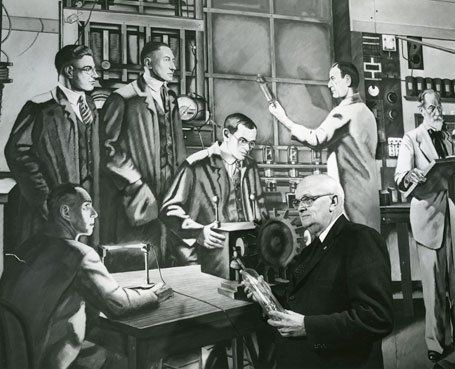 Madison, Wisconsin: cradle of broadcasting. Though perhaps overshadowed by the greater renown of places such as New York (home of RCA), Pittsburgh (home of Westinghouse), or even Schenechtady (home of General Electric), Madison can truly be counted as a pioneer in educational broadcasting and as a progressive force in the radio field. Further, its Wisconsin Historical Society archives hold one of the most extensive collections of broadcasting history documentation in the world. The following pages provide brief histories of key figures in the development of Madison's formidable radio achievements. Each figure is represented in the Wisconsin Historical Society archives in various degrees. 
For example, the archives hold but a few original documents credited to Professor Earle M. Terry, one of the most important figures in the development of American radio, but they retain literally thousands of documents that detail the practices of the WHA's School of the Air, thanks to the meticulous dedication to saving internal documents by directors Harold McCarty and William Lighty. In these pages we trace their careers, along with other significant contributors to WHA's history such as Malcolm Hanson, Cyril Jansky, Harold Engel, Aline Hazard, and Edgar Gordon. Also important in Madison broadcasting history is the pioneering commercial station WIBA and its owner William T. Evjue.
These pages were produced through primary document research as a way to highlight the Wisconsin Historical Society's collections and to spotlight a pivotal but under-examined period in early radio. Also not to be missed by those interested in Madison's pioneering radio history are Randall Davidson's thoroughly researched and highly enjoyable book 9XM Talking: WHA Radio and the Wisconsin Idea, and Derek Valliant's essay Your Voice Came in Last Night But I Thought It Sounded a Little Scared: Rural Radio Listening and "Talking Back" during the Progressive Era in Wisconsin, 1920-1932.
Researched and written by Josh Shepperd, summer 2008 Jarchow Fellow. Thanks to Stephen Jarchow, Maxine Ducey, Dorinda Hartmann, and Liz Ellcessor, and the Department of Communication Arts for their contributions, and thanks to Michele Hilmes for editing this project. And our undying gratitude goes to the largely anonymous archivists who processed and described the collections on which this online exhibit draws so heavily.