The bulk of live anthology drama production remains unseen, even to historians and connoisseurs of 1950s television. This is partly because of the ephemeral nature of live broadcasting. Many episodes of live television drama do not survive. The ones that do survive exist largely in the form of "kinescopes," 16mm films that were shot directly off television monitors by the networks. The WCFTR has hundreds of episodes of live television drama in its collection of kinescopes, such as:
The Center also holds kinescopes of Climax, First Person, Kaiser Aluminum Hour, Schlitz Playhouse of Stars, and many other shows. The breadth of these holdings reveals that the subject matter—and the quality—of live anthology drama was more diverse than the canonical "slice-of-life" episodes would lead us to believe. The kinescopes include drawing-room comedies, suspense-laden thrillers, knockabout farces, and adaptations of Shakespeare and Dickens.
But the collection also holds revelations in the realist vein. A 1955 episode of Philco, "A Man Is Ten Feet Tall," boasts riveting performances by Sidney Poitier, Martin Balsam, and Don Murray. The future director of To Kill a Mockingbird, Robert Mulligan, creates an intense, claustrophobic atmosphere in sets that recreate a bustling shipyard in a small NBC studio. The episode, written by Robert Alan Aurthur, recalls the 1953 feature film On the Waterfront but has a power of its own, with its convincing depiction of racial prejudice in a working-class milieu. "A Man Is Ten Feet Tall" was adapted for the big screen in 1957, the title changed to the more noir-ish Edge of the City; Poitier reprised his starring role.
In addition to kinescopes, the WCFTR collections hold internal network memos; letters to and from actors, directors, producers, writers, and executives; annotated scripts and script revisions; set designs; publicity materials; newspaper reviews; and production photos.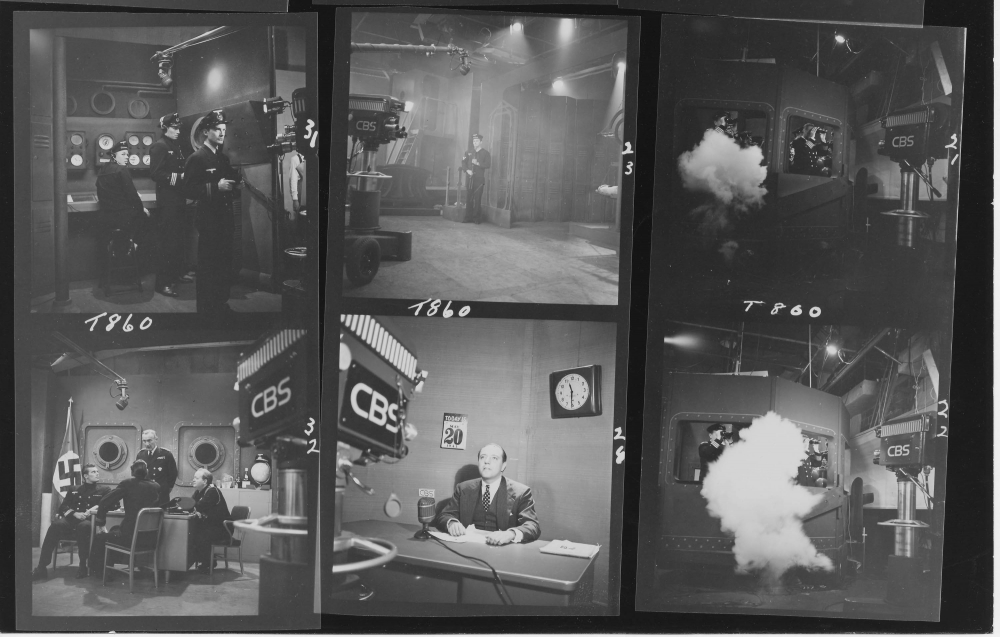 This contact sheet of photos from "Battleship Bismarck," an episode of Studio One broadcast October 24, 1949 on CBS, depicts the complex sets and effects live dramas pulled off under difficult conditions, even in its earliest years. From the WCFTR collection. 
The Center holds the papers of producers such as Fred Coe, directors such as Tom Donovan, and many of live anthology drama's most prominent writers—not to mention the papers of the NBC network on which many of them aired. Often materials on a particular show are spread across numerous personal and corporate collections, allowing researchers to piece together a understanding of how a single episode came together.
Further Reading:
James L. Baughman. Same Time, Same Station: Creating American Television, 1948–1961. Baltimore: Johns Hopkins University Press, 2007.
Christine Becker. It's the Pictures That Got Small: Hollywood Film Stars on 1950s Television. Middletown: Wesleyan University Press, 2009.
Jeff Kisseloff. The Box: An Oral History of Television 1929–1961. New York: Penguin, Viking, 1995.
Delbert Mann. Looking Back…at Live Television and Other Matters. Los Angeles: Directors Guild of America, 1998.
Ira Skutch. The Days of Live: Television's Golden Age as Seen by 21 Directors Guild of American Members. Los Angeles: Directors Guild of America, 1998.