In 1954, Coe, with the assistance of David Susskind, set out to organize several of the highest-profile tele-playrights into a corporation in which they would all be stockholders. Many writers were approached, and David Shaw, N. Richard Nash, Robert Alan Aurthur, Tad Mosel, and Horton Foote eventually agreed to participate. The writers were joined in the organization, titled Playwrights '54, by Coe and agent Lucy Kroll. A memo from a group meeting, available in the David Susskind papers, describes its raison d'être.
The group sent out press materials that promoted the idea that in television, "the first thing is the story." They proposed a half-hour show dedicated to producing scripts by the members of Playwrights '54. This effort gained an extraordinary amount of press attention, culminating in a photo essay in the October 25, 1954 issue of Life Magazine, entitled "Bright Galaxy of Playwrights." In this four-page spread, the writers of Playwrights '54 were photographed on the sets of anthology-drama episodes produced from their scripts. Each photo was pithily captioned to establish a persona for the writer. Shaw was described as "a spinner of light comedy with a touch for gentle satire." Nash "likes to write about violent people." Aurthur explained that he has "been mainly concerned with relationships between parents and children." Foote, the "star" of the group, was noted for his tendency to link his scripts by giving them characters and a small-town Texas location in common.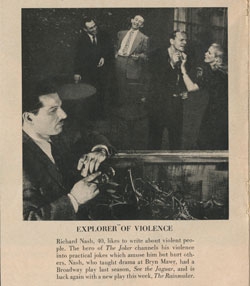 Tele-playwright Richard Nash is photographed on the set of "The Joker," an episode of Philco Television Playhouse he wrote. Actors Martin Balsam and Eva Marie Saint are among those behind him. From the Life Magazine photo essay, "Bright Galaxy of Playwrights."
Despite all of its good press, it's not clear that Playwrights '54 ever achieved its goals, or was ever formally incorporated. But Coe took the idea of a series whose appeal was based around its writers and developed Playwrights '56 for CBS, which debuted in October 1955. Playwrights '56 was perhaps the show that most fully embodied what has been described as the ethos of the Golden Age: small-scale dramas, often set in small towns or working-class city neighborhoods. Contributors of scripts included some of the would-be members of Playwrights '54 but also such celebrated figures as Gore Vidal, Sumner Locke Elliott, J.P. Miller, and A.E. Hotchner. Coe brought his Philco-Goodyeardirectors, Arthur Penn and Delbert Mann, on board for some of their finest work.
Despite a reputation for quality, Playwrights '56 suffered from poor ratings and only lasted one season. Its episodes remain unknown to the general public. The WCFTR includes kinescopes and videotapes of 14 episodes.