Early Career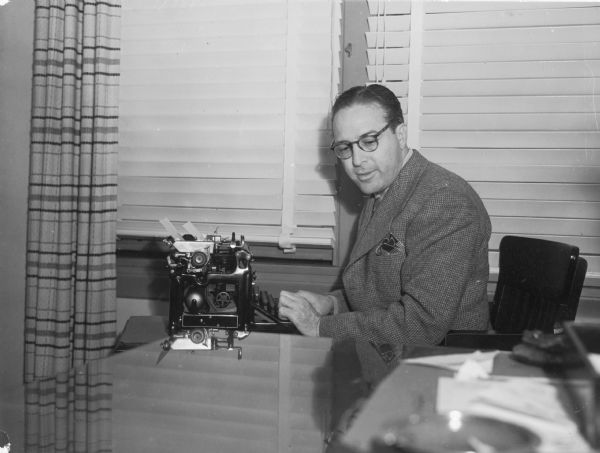 Dalton Trumbo began writing in 1925 while working nights at a bakery in Los Angeles. Many unpublished efforts later, he began to publish prolifically, finally leaving the bakery in 1934. Numerous short stories and three novels appeared over the next few years, including the anti-war classic Johnny Got His Gun in 1939. By the mid-1940s, Trumbo had become one of the most respected and highest-paid screenwriters in Hollywood, with credits including A Man to Remember (1938), Five Came Back (1939), an Oscar nomination for Kitty Foyle (1940), The Remarkable Andrew (1942), A Guy Named Joe (1943), Tender Comrade (1943), Thirty Seconds Over Tokyo (1944), and Our Vines Have Tender Grapes (1945). He also became a leader in the Screen Writers' Guild, founding and serving as editor of The Screen Writer, its official publication. Documents from the collection show how the primary purpose of the SWG for Trumbo was to protect freedom of expression; he waged many battles with the film studios for greater creative control for screenwriters.
Well known throughout Hollywood as an activist for left-wing social and political causes, Trumbo was a supporter of liberal Democratic political candidates, including serving as chairman of Writers for Roosevelt, and working with a number of political organizations for anti-fascist, pro-labor, and civil rights issues. During World War II, Trumbo spent time as a war correspondent in the Pacific Theater, visited soldiers in military hospitals, and worked with the US Navy on an ultimately unproduced film project. Trumbo was a supporter of Marxist socialism and was a member of the American Communist Party off and on from 1943 to 1954. In documents from the collection, he speaks of how he felt no political connection to or compulsion from the Soviet Union, but that his party membership was based solely in his personal political beliefs.
Related Links
Dalton Trumbo on the Internet Movie Database
Hanson, Peter. Dalton Trumbo, Hollywood Rebel: A Critical Survey and Filmography. Jefferson: McFarland, 2001.