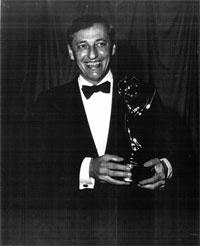 After his appearance before the McCarran Committee, work dried up altogether for Lampell. His refusal to clear himself made him officially suspect. During those years he survived by writing under a pseudonym and ghostwriting scripts, including work for educational programs and British television programs.
As the Blacklist began to crack there were a few producers willing to take a risk on Lampell and he was able to get a few jobs in theater and film by 1960. It was in 1964 that he was able to again write for television and be credited. Lampell wrote "No Hiding Place" for the CBS series East Side, West Side that year and the critical and popular success of that production led to the offer to write "Eagle in a Cage," about the final years of Napoleon, for NBC's Hallmark Hall of Famein 1965.
For "Eagle in a Cage," Lampell won the 1966 Emmy Award for writing in a drama. In his acceptance speech for the award, Lampell announced to the crowd that he was blacklisted for ten years. This was one of the first prominent public acknowledgements of the Blacklist and it caused quite a stir, both publicly and within the entertainment industry. His statements confronted the ugly subject just as Hollywood was trying to sweep it under the rug and it also helped bring the existence of the Blacklist to more permanent public consciousness. Lampell later commented that he said what he said not for pity but to make sure that everyone might better understand and not forget the political discrimination of that era.
Digital Documents:
"I Think I Ought to Mention I was Blacklisted," The New York Times (1966)