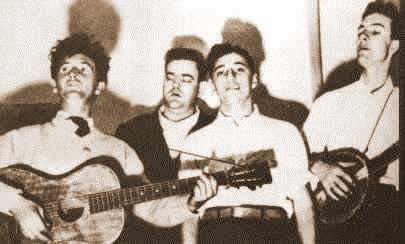 Before concentrating on writing professionally, Lampell was a singer-songwriter and a founding member of the highly influential folk music group the Almanac Singers. His exposure to rural Appalachian coalminers during his time in West Virginia in the 1930s sparked an interest in labor politics and folk music that brought him to New York City in the 1940s. There he founded the Almanac Singers with Pete Seeger and Lee Hays, and the core of the group was solidified when Woody Guthrie came to New York to join them. The Almanacs adapted traditional folk songs with lyrics reflecting contemporary political and workers' issues and performed at many progressive political functions. In the first years of the 1940s the four original Almanacs lived together and hosted a revolving cast of other important folk musicians as unofficial group members.
The Almanacs existed almost exclusively for the promotion of progressive causes, most notably traveling to union meetings in Kentucky, Alabama, and the Carolinas, making them one of the first political popular music groups of all time. The headquarters of the Communist Party of America was a few blocks away from the group's apartment in New York and the Almanacs soon became associated with Communist politics. Lampell's involvement with communism, documents from the collection suggest, was due less to any identification with Soviet Communism and more to a general support of working class causes—and more than a little to some political groups' exploitation of what he characterized as the Almanacs' youthful naïveté.
The Almanacs recorded two albums, Songs for John Doe (1941) and Talking Union (1941) and the group toured the country in 1941. Lampell began to grow weary of some of Seeger's politics and he left the group shortly thereafter, followed by Guthrie, who left to pursue other projects. Seeger and Hays remained together and continued to perform as the Almanacs alongside a cast of side members until they disbanded in 1942. Seeger, Guthrie, and Hays all went on to illustrious folk music careers, but Lampell did not pursue music further.
Related Links